In the middle of these unprecedented times I've been twiddling my working prospects in a new light. I have rarely been in a similar silence on social media than in recent times. It has been reassuring and sometimes even scary to think about the world, even the most fundamental questions. In January on the horizon of my work was The Essence of the Music Business:Philosophy update – the Second Edition. It seemed the most sensible next step. That would have been the case if one call had not changed the direction. An update is coming – don't worry. I want to tell this other story. The calling!
Some of you already remember my calling – being an artist manager. You probably also recall that I took a few years break from that occupation – to write The Essence of the Music Business trilogy. I returned as manager with Melba Culp in February last year. I am still busy with them. Last summer, Gentle Savage joined the roster. These gentlemen brought with them the original cause, the calling. When I took a break from management, I had time to re-evaluate things. I made a decision then, I will continue to take artists into my care who have a similar calling and fire that I feel I have. Not two without third.
Now to that call I mentioned. My phone rang in February and at the other end was Vin Valentino from Delta Enigma. I already knew him, as he directed three videos for Annika Nord, an artist with whom I have a long collaboration. To be honest, I didn't even know he had a band. Didn't go three minutes longer and I was sold! I had once talked to him about music videos before. I remember being fascinated about his energy and passion for his work. When we started talking about music, after seeing their unreleased Waterfall music video – I almost begged to get involved. This was exactly I was longing for – a reflection of the calling. Now a couple of months later that Waterfall will be released on 22.5. They had many things ready. It was pretty much just tying shoelaces together to get it out. I wanted to tell such a story in these unusual times – to encourage us all. A story that arose when a vacuum was created elsewhere.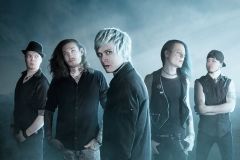 This time can also be used for one that would otherwise left undone. While this still reflected good wibes on my other two bands – we decided to release something special in August – on top of that all.
Stay safe, stay healthy and be careful!
Best,
Mika